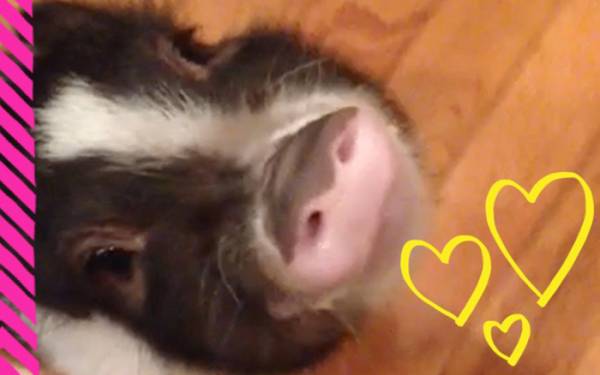 Sigh. The holidays are over, and it's time to turn our attention to the daily grind once again. But don't despair! Here are ten ridiculously cute baby animals to help put a smile on your face in 2015.
1. Benjamin the Pygmy Goat:
Aw, COME ON! This little guy is so cute, he could hop his way into any grouch's heart. It's easy to see why this orphaned miniature goat from England has become a worldwide internet sensation.
2. Munchkin the Shih Tzu Teddy Bear:
Part puppy, part re-animiated teddy bear, this little woofer might be creepy if she weren't so adorable. In case you're confused (like we were), she's a Shi Tzu wearing a teddy bear costume.
3. Waddling Penguins in Christmas sweaters:
We want these tuxedo-clad gentlemen to waddle right into our arms!
4. Puppy Singing "Let it Go":
If we have to hear this song for the 480,000th time, it might as well be coming from a sweet Australian Shepherd.
5. A Tea Cup Pig:
OK, so he might not actually fit inside a teacup anymore, but we're still suckers for any animal that's shrunk down to puppy size.
6. An Otter Who Eats at the Table:
Welcome this well-mannered lady to a seat at your dinner table! Just don't ask her to use a knife and fork...
7. A Savannah Cat:
Why should the children of eccentric millionaires have all the fun? We want to be 5 years old with the world's largest domestic cat, too!
8. Harry the Pygmy Hippo:
What the WHAT!? Check out 1:01 where Harry is basking in the enjoyment of his bath, and you'll be inventing excuses for why you need to get—and raise—a pygmy hippo.
9. A Tufted Deer:
Why hasn't anyone made a Twilight-style movie about falling in love with one of these charming "vampire" deers??!
10. This Turquoise Cat:
Somehow, this Bulgarian Cat accidentally turned himself green and confounded a nation. But that didn't stop him from being darling!